This is our expatriation story in Panama. It is not perfect and not everything went as planned. It is just a testimonial that may help those who have an expatriation project or simply give you the desire to come and visit us in order to know the story in details and live the Casa Swell experience.
We are Eva and Jay. After spending 10 and 18 years respectively in Canada during our first expatriation outside of our home countries of Argentina and France, and despite good professional situations in Montreal, we decided to leave everything, tired of city life and the routine of metro, work, sleep to try the adventure in Central America. We wanted to leave Montreal and had two options in mind in the Québec region and we thought that if we had to move, we might as well do it in a place we had been dreaming of for several years. This expatriation had been in the works for a long time in fact because every time we went on vacation, it wasn't quite a vacation, we always went to visit countries like nicaragua, costa rica, mexico, colombia and ecuador, which was on the list of countries that would meet our expectations for a second expatriation. And it is not sitting on a deckchair in an all-inclusive that we discover and know a country. Our vacations were rather planned as a road trip with the aim of discovering a maximum of different places. It was not just a vacation but rather an adventure each time with a maximum of meetings to feel the pulse of the visited country. It is also for this reason that we had planned a move to Panama in the form of a big road trip of 6 months, leaving Montreal in a truck camper to reach Panama where we would have made another focus trip on this country for 6 other months, always in a camper.
Panama was a thoughtful choice for the following reasons :
– political and social stability because of the canal
– ease of obtaining residency and low cost compared to other country options
– ease of setting up a business without the need for national partners in ownership and management
– monetary ability of locals to generate income in the off-season (and thus in covid time)
– low rainfall during the rainy season in the region we chose compared to other regions in Panama and other Central American countries.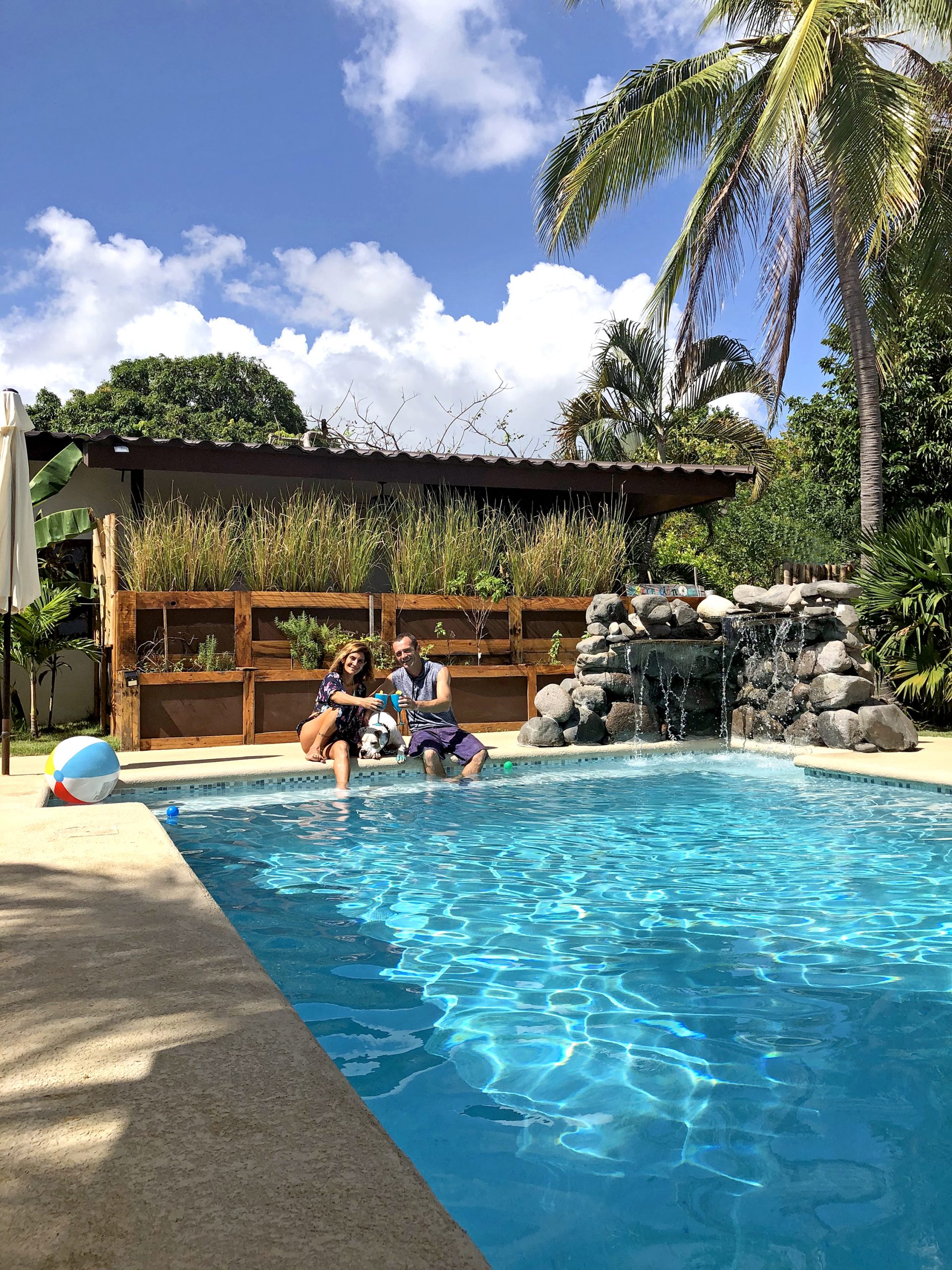 Finally the road trip project was cancelled almost last minute because we were lucky enough to find a house/bnb sitting in Playa Coronado in Panama. We arrived in June 2019 to manage a 4 unit bed and breakfast plus 5 unit condos for rent in the same resort for 6 months in exchange for housing, without salary. The original deal was only for the 4 units of the bnb and we learned upon our arrival that there would be 5 condos to manage; Welcome to Panama. This kind of surprise is quite common in Panama and you have to adapt to it. It is very rare that everything goes as planned, even if you have planned everything. 
Our short experience in this bnb allowed us to realize the do's and dont's and to refine our idea of the perfect resort. We already had in mind the type of resort we wanted to create in terms of structure thanks to our previous trips to several similar hotels. We were able to come up with a better idea thanks to this experience. It was now a matter of finding the right location for the project and the property itself.
During these 6 months, we have visit almost every piece of Panama because we were in low season and the hotel's owner allowed us to escape when the hotel was empty. When we arrived, we didn't really like playa coronado which was too developed for our taste. We were dreaming of jungles and isolated corners, like a postcard, a bit like those we visited during these 6 months. However, every time we came back from a road trip, Playa Coronado seemed to us not so bad because the commercial and medical infrastructures were all at less than 10 minutes of car which is far from being the case in more remote areas of Panama. The more we got to know the country, the more difficult it seemed to us to start a project here, considering the way things work, and it seemed wiser to do it in a more developed area. After visiting about 40 properties in Coronado, of which only 2 in our budget could meet our vision, we signed the sale in November 2019 after 3 months of hard negotiation.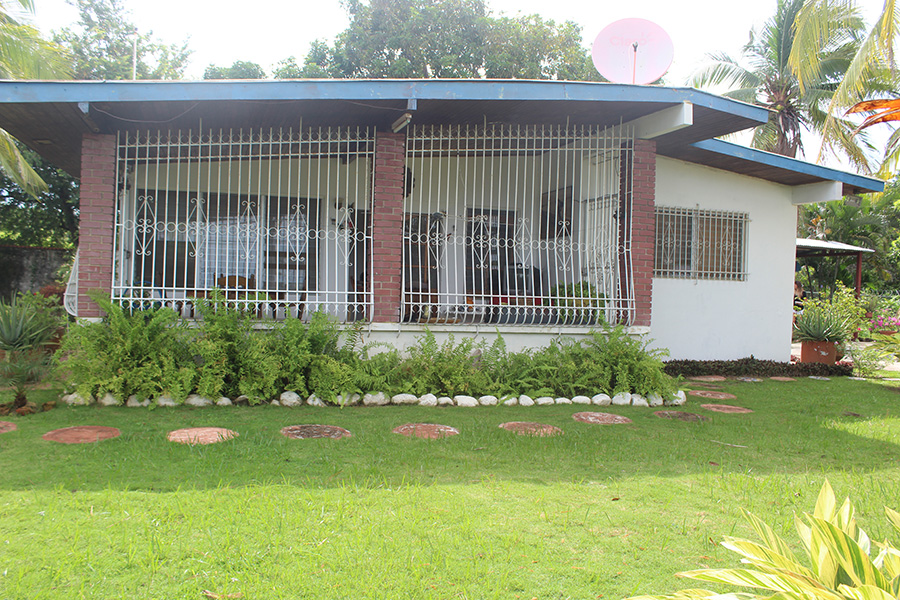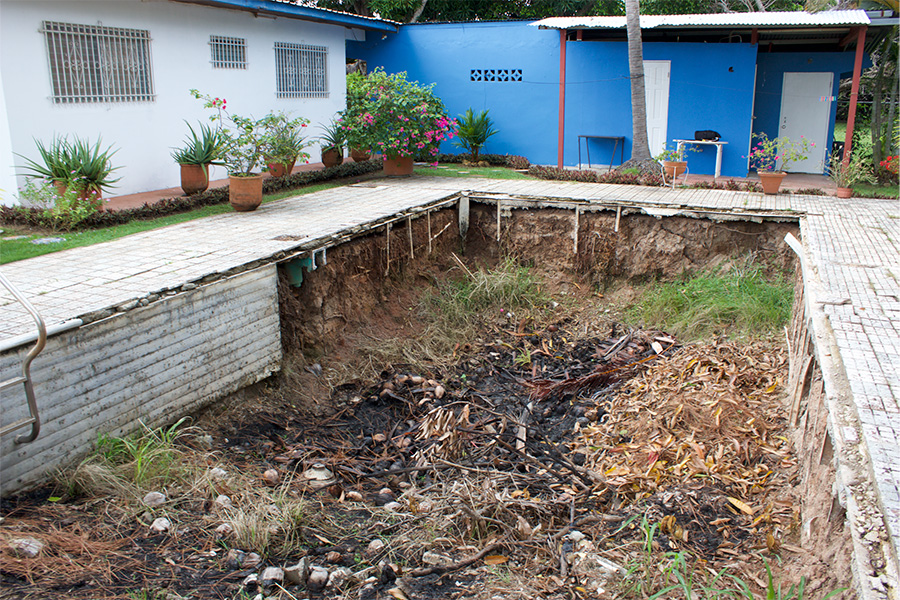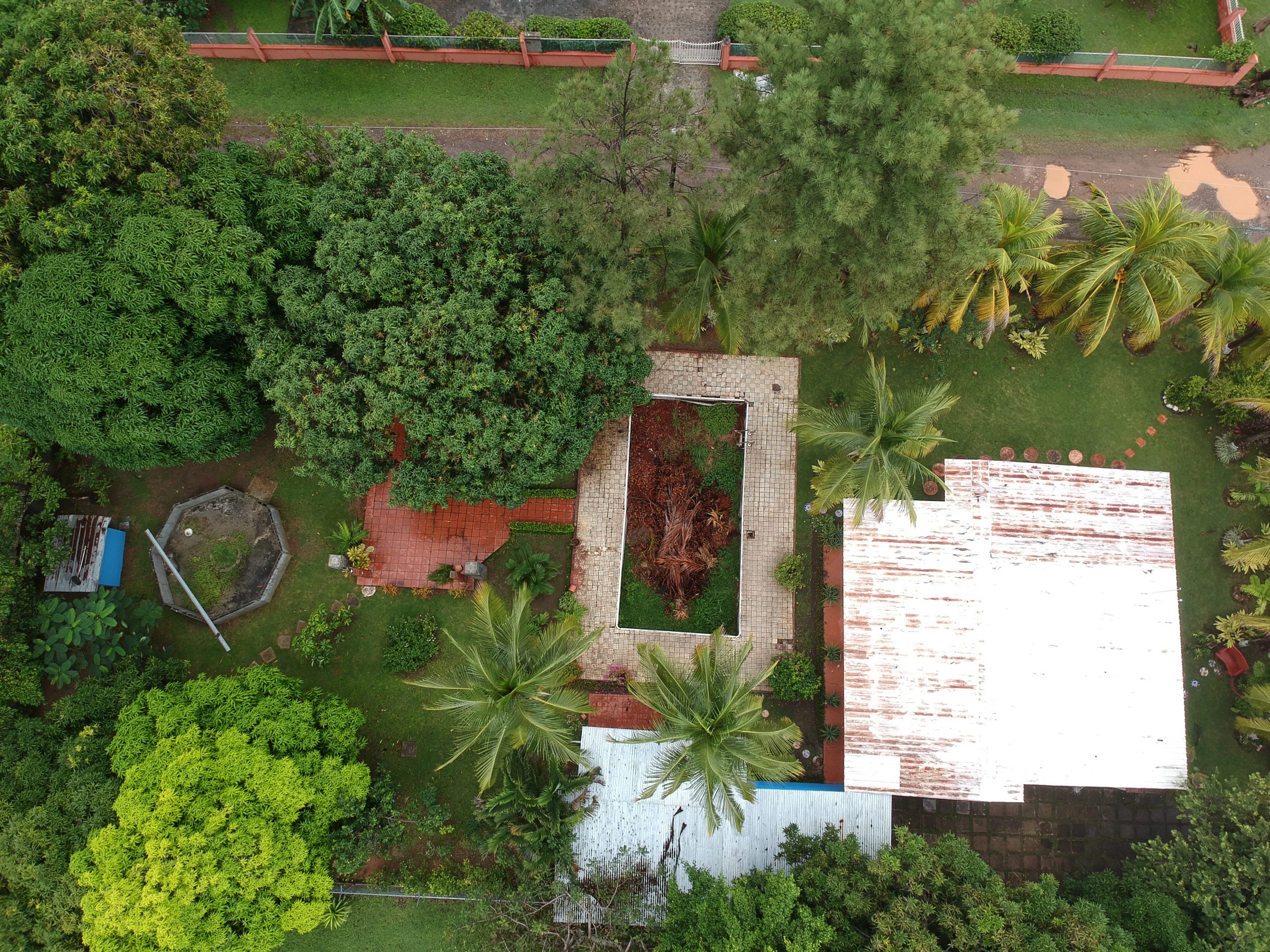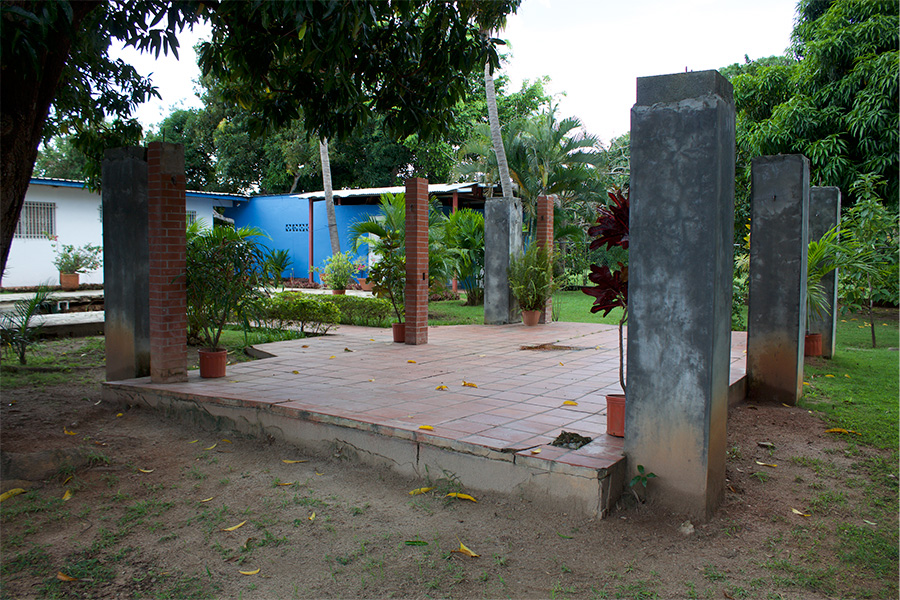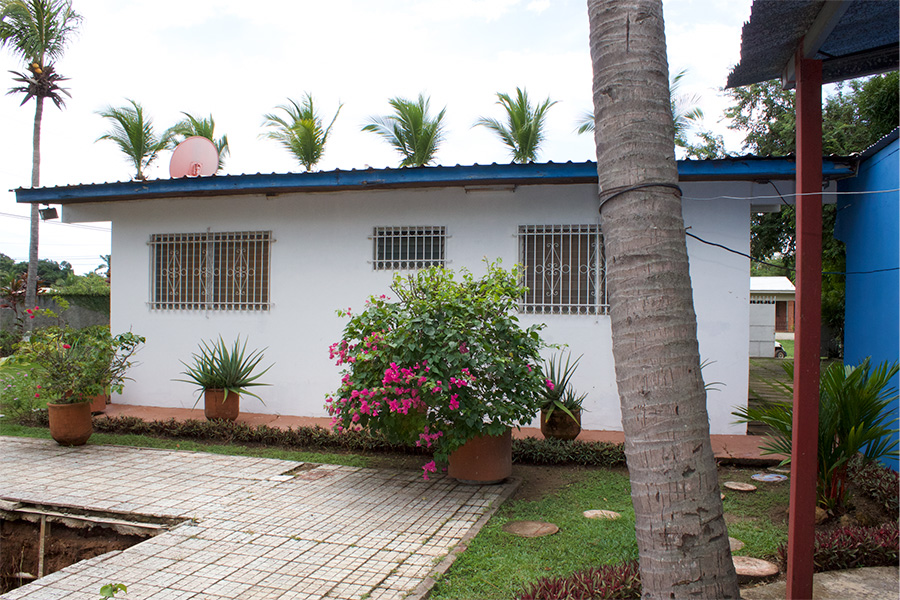 Here everything is longer, EVERYTHING, absolutely everything. The queue at the supermarket, the administrative processes, the service at the restaurant and in all the stores, everything is done at a non-North American pace. At the beginning it's very irritating, then you deal with it and finally you do the same! If you have no patience and no ability to adapt, an expatriation in Panama may not be for you 🙂
We also took advantage of this period to do our immigration papers once we were sure to settle down, seduced by the climate and already addicted to surfing, we also bought a car to be more autonomous.
We returned to Montreal in December 2019 to pick up a few more suitcases before moving back into our new home on December 12, 2019. On the way back, we picked up our temporary cedula in Panama City and headed to Playa Coronado to move into our new home with no air conditioning or completely sealed windows and a few geckos. The same day, upon our arrival, we were delivered a mattress that we put on the floor to start with in order to sleep comfortably. We were starting from scratch for real. We were going to live (read camp) in this old house for several months until our casita was ready. Indeed, the work started on December 19th with the transformation of a shed (concrete structure) which will become our personal casita on the resort! A first contractor was in charge of this transformation with the promise to realize the swimming pool, the bohio and the transformation of the house into 4 hotel rooms if these first works were realized as planned and according to the budget. He failed and so we contracted another contractor at the beginning of February to start the pool and other septic tanks while the first one had not finished the casita in time. Things had to move forward and everything was going well when all of a sudden the pandemic arrived around March 15th and there it was, STOP. The construction site was stopped, no more workers, and the two of us found ourselves faced with a huge amount of work. We started to improvise ourselves as contractors with the materials we had at our disposal by making 2-3 slabs of concrete together with a temperature of 40 degrees and a blazing sun. I lost almost 10 kilos during this year of construction that I have just recovered 3 months after the opening. Once the available materials were exhausted, we had to continue at all costs because for us the clock was ticking and each week that passed was taking us further away from our opening date. So we played the card of recycling materials that this pandemic forced us to do because all the construction stores were closed here unlike in North America or Europe. We had to move forward and during the two and a half months that the construction site was closed, we did so relentlessly, seven days a week from 6 am to 6 pm. The measures were among the hardest in the world with the right to go out every 2 days only 2 hours depending on the sex and the last passport number. 2 hours to go shopping in Panama and 2 hours to buy materials, mission impossible! Then there was the ley seca (read dry law): no more alcohol for sale for a month and a half, fortunately there were stocks at home and the black market but all this to say that quarantine elsewhere in the world was not so bad. You have to be ready for some sacrifices in any expatriation project, pandemic or not!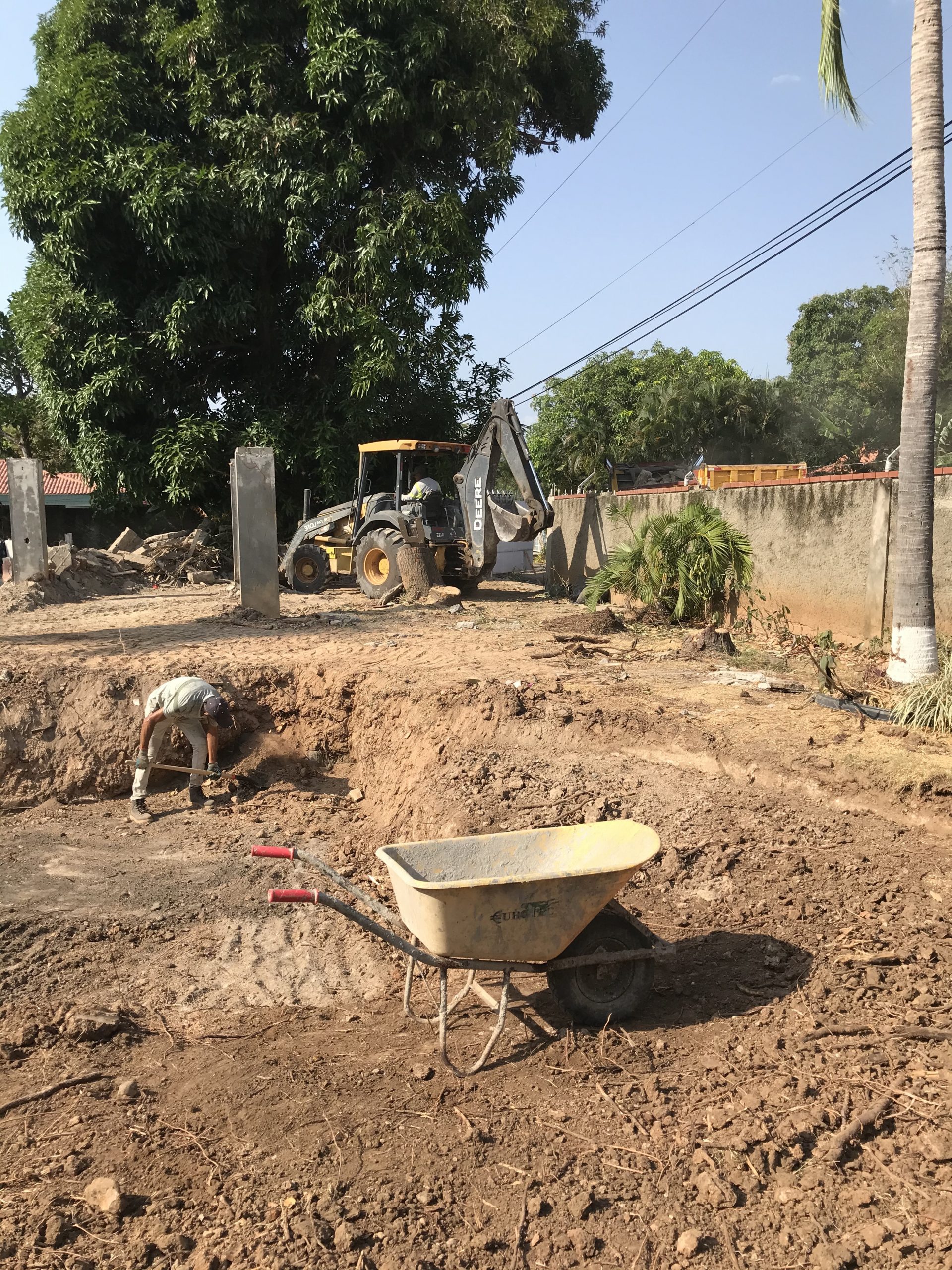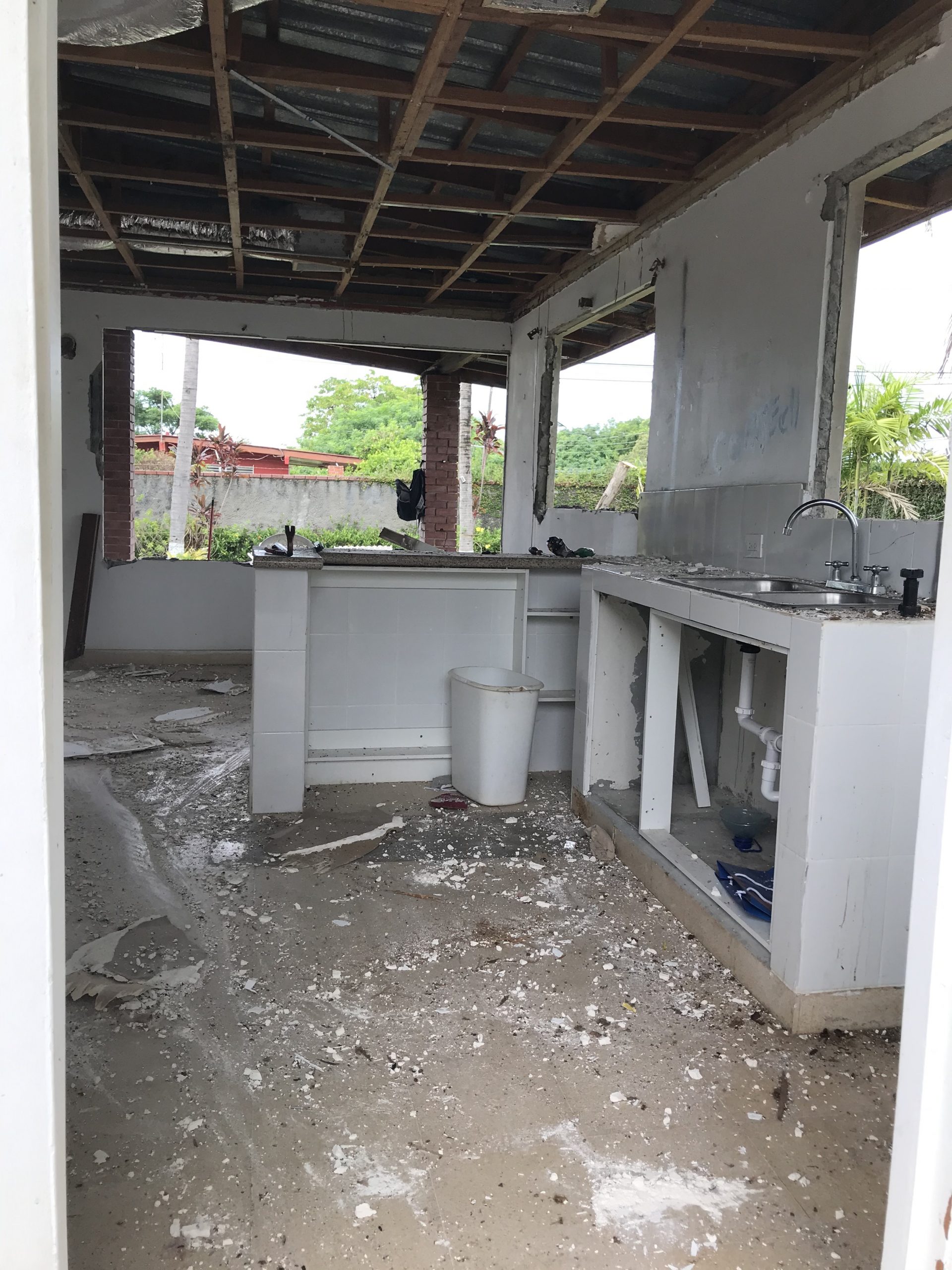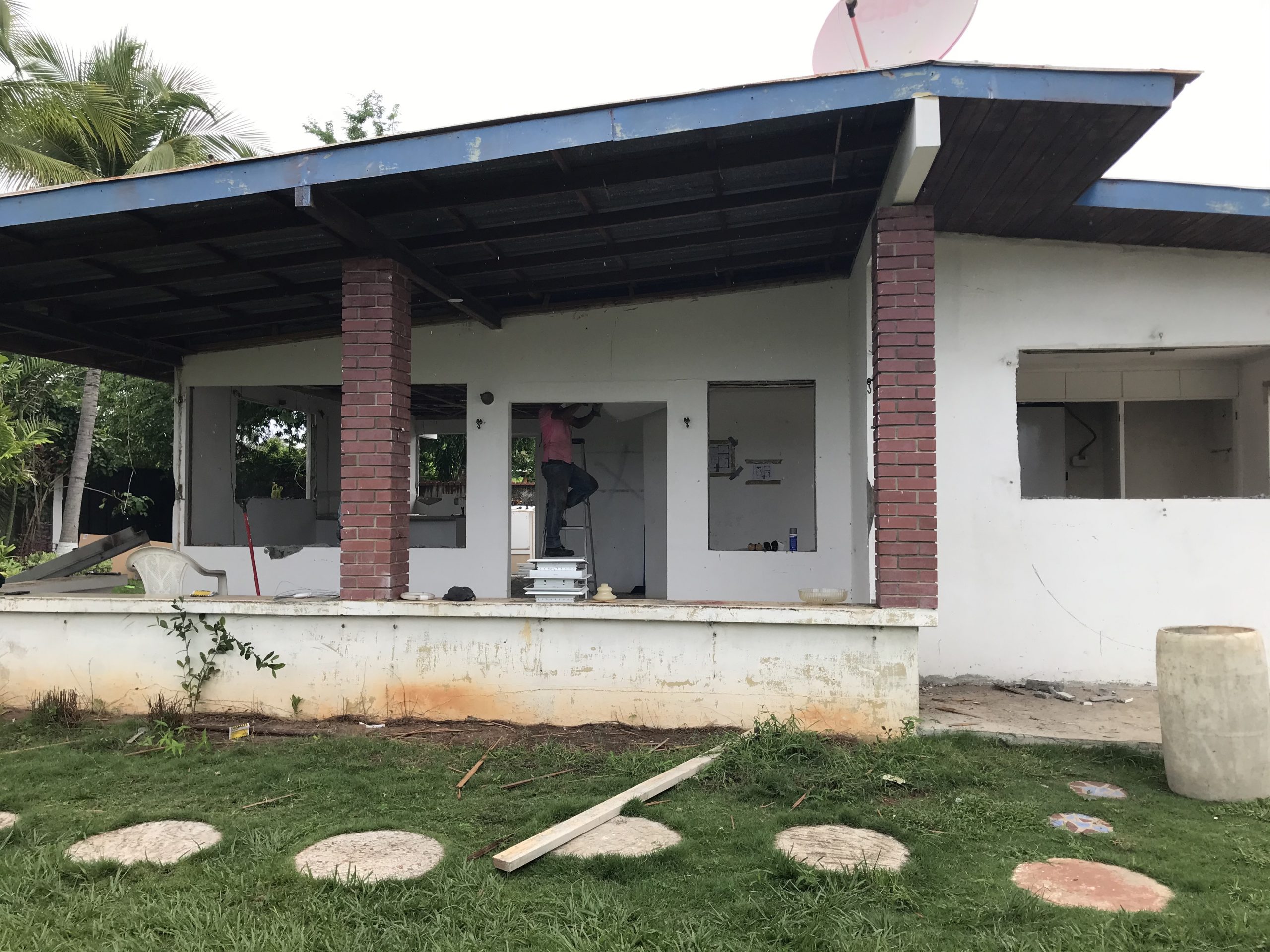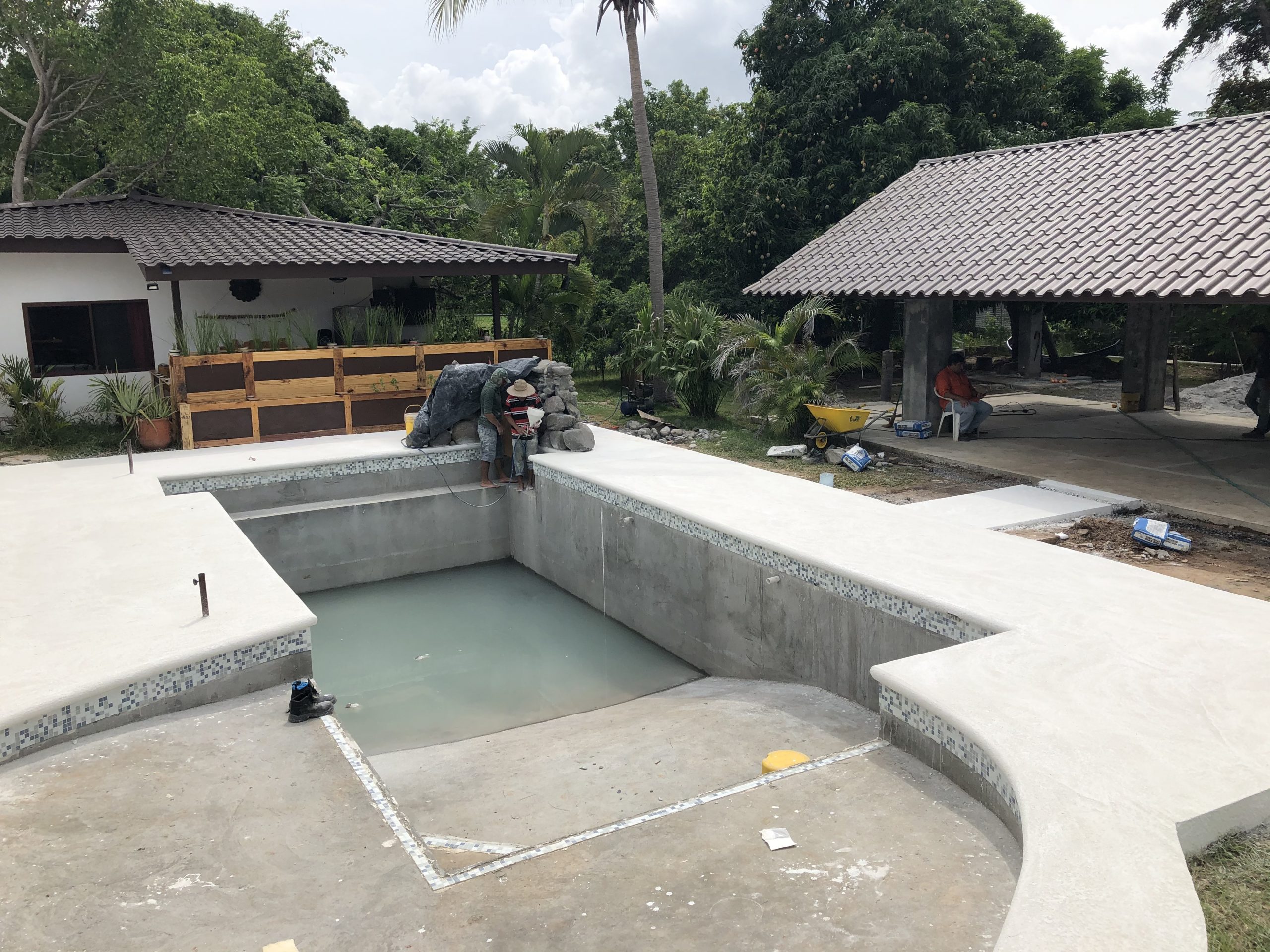 But back to recycling, we had to cut down 2 large pine trees whose roots would inevitably destroy the pool in the short term. While cutting the trees, I had asked the lumberjack to cut me several slices and logs that became the counters and swinging chairs at the bar, the coffee tables of the outdoor beds and even the light fixture of the pool table in the bohio. During the 3 weeks of the pandemic, every day from 6 am to 6 pm, I spent my time removing all the bark and sanding, treating and varnishing all these pieces which greatly helped us to complete the finishing of the bohio quickly since all these pieces were ready to install. The exterior beds around the pool and the bedrooms were custom made from the metal grills on the windows of the house. These grills were installed systematically at a time when surveillance cameras and alarms did not exist for beach houses abandoned during the week and too easily accessible to bad souls. All the wood roofing of the house that received a new metal roof was used to make furniture, fixtures and wall coverings in one of the bedrooms. The metal sheets from the roof were reused to make exterior fences. In the end, the result is a design that is in harmony with the concept and that our clients love. But this kind of recycling process could have gone wrong especially with the level of quality we wanted to give to the whole project.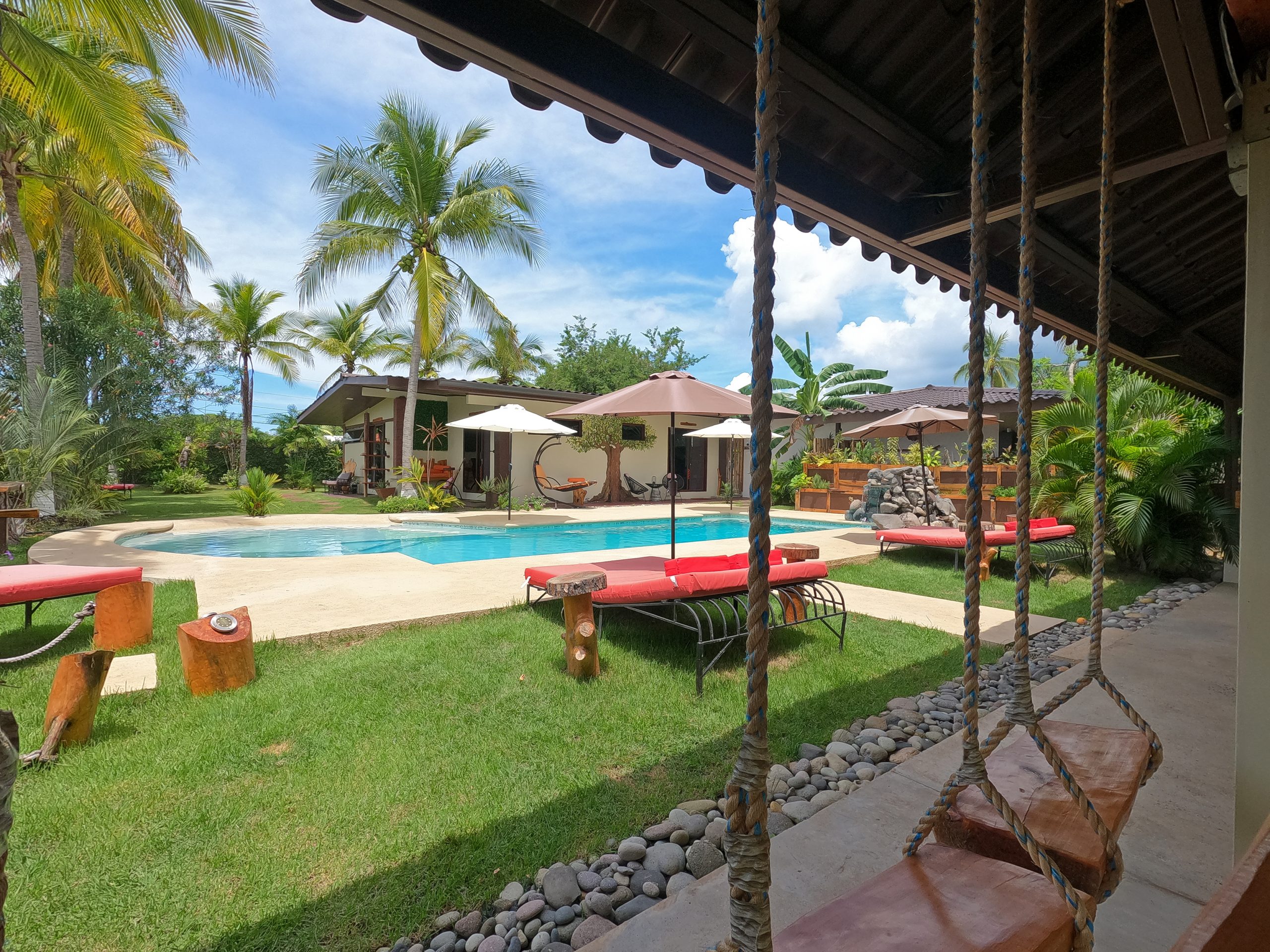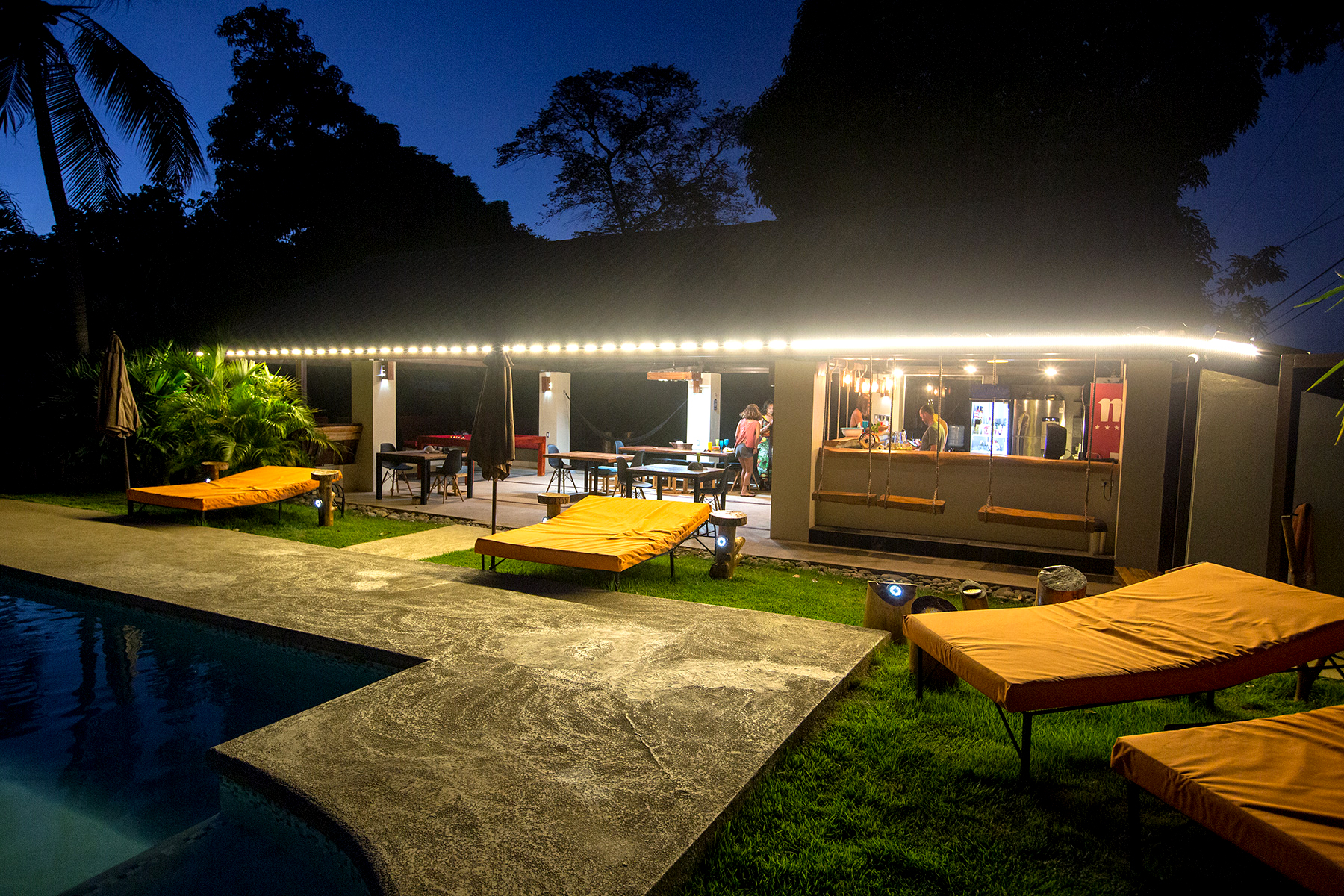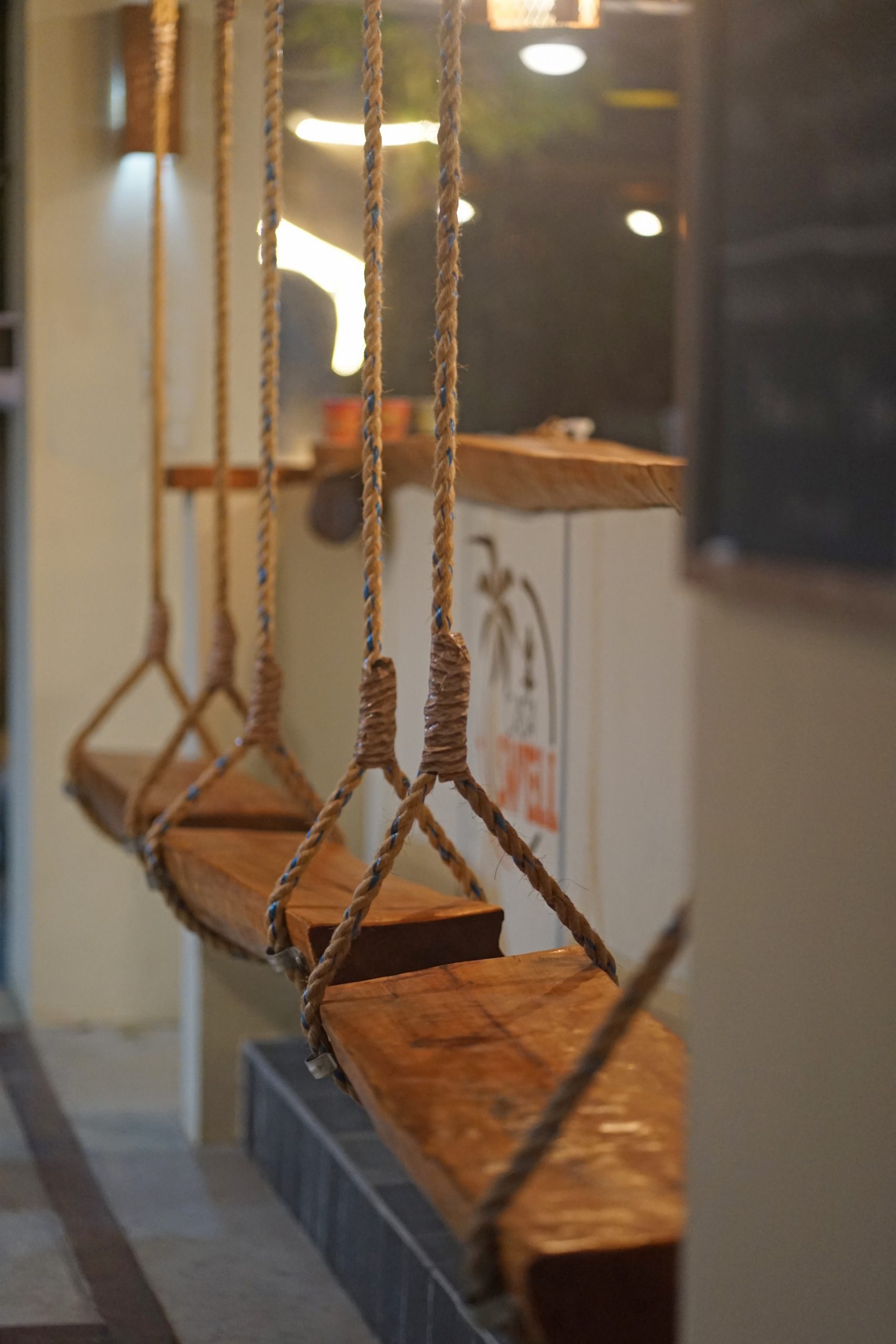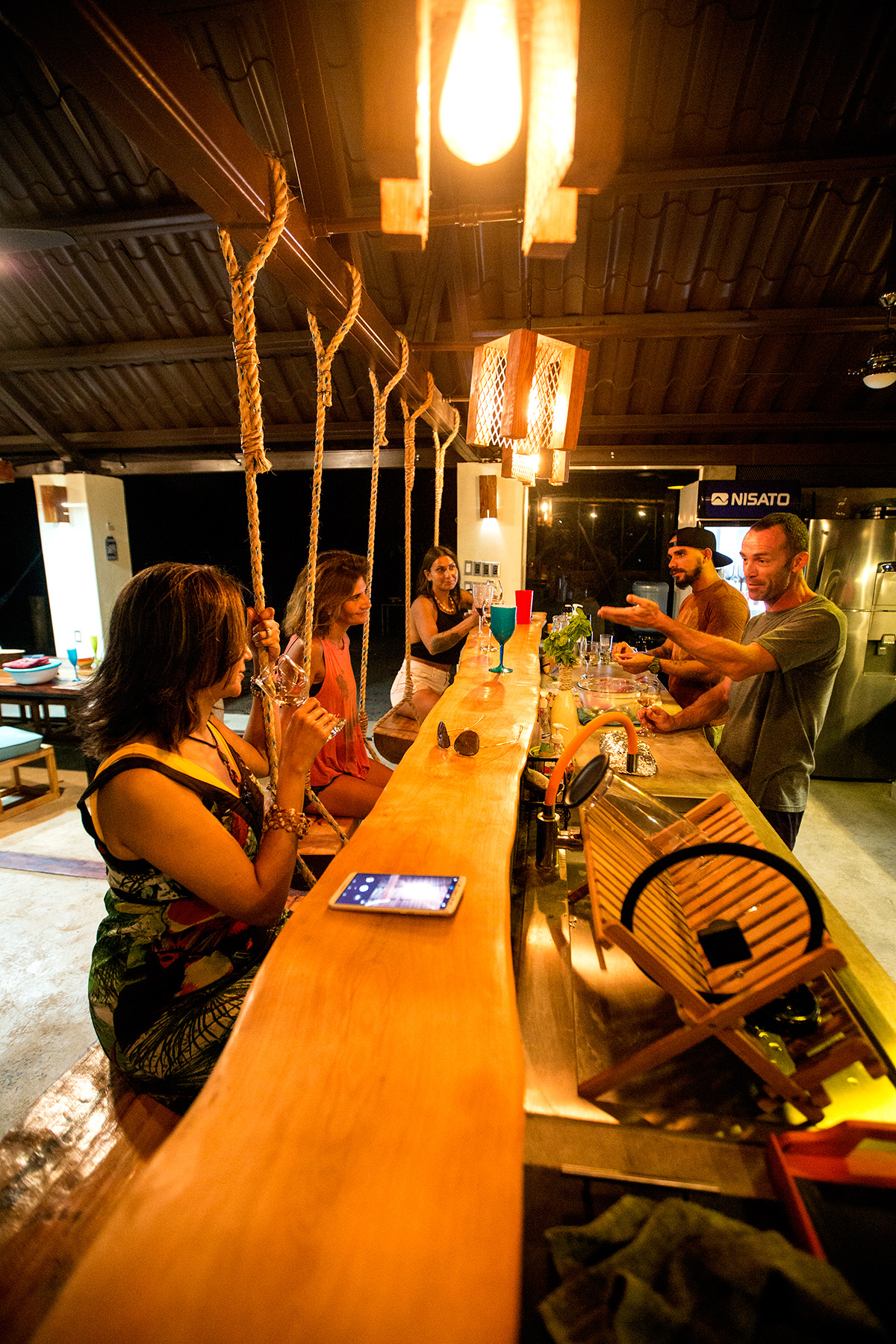 It took courage to make our dream come true. I think we threw ourselves into this project to forget about the pandemic and not to have time to think about the big questions that everyone was asking themselves: what was going to happen after? Would people start traveling again? Would we ever receive international tourists? When? We had started this project only 3 months ago when everything stopped, but we had started. We had no choice but to finish, not to give up, we had to finish the work and open. We were injecting money into this project on a daily basis while wondering if it was going to be viable in the end. We didn't know at the time that there would be other obstacles in the way of finishing the project.
Renovation periods are already delicate for a couple. Imagine the context here, isolated both in a new foreign country with strict rules, dubious measures (as everywhere), a shortage of materials, the impossibility to see the few friends we already had and waking up every day in the middle of a construction site far from being finished. Doubts and uncertainties set in but a walk on a deserted beach or a surfing session in all illegality (the beaches were forbidden to access under penalty of fine or more) quickly put things in perspective, we had to finish and go to the end of our dream.
The workers finally came back mid-June. Everyone came back after having spent two and a half months at home with the wife and children without income! We were already burned on our side but we were still focus. The shortage of materials continued because of the pandemic, the prices of the latter increased and the budget immediately took a hit not to mention the US vs CAN exchange rate. We also had several construction guys from our friends in Quebec (carpenters, electricians, cabinet makers, air conditioners) who were very enthusiastic when we left Canada to come and help us build this project for several weeks or even months but of course, because of the pandemic, no one was able to come and this is also what made our budget explode. Another question appeared besides maybe opening an empty hotel for months, would we stay within the budget and be able to finish the project?
The answer was obviously no and we had to let everyone go in October 2020 due to the poor quality of the finishing work done by our workers who were also starting to be exhausted by this project. We preferred to do the finishing ourselves instead of having to systematically redo everything they did.
While all the businesses were starting to reopen in Panama, and our bnb friends were starting to receive customers and reservations, we were still finishing up, still not ready to open. The city dwellers who had been cooped up in their condos in Panama City for months were more than ready to escape to the beaches. We had to finish and fast, so that the financial trend would reverse. We were in a race against the clock, always with supply problems for essential elements such as finishing. For example, I wasted a week finding bearing systems for the overhead doors in the bathrooms, which were out of stock everywhere because of the shortage.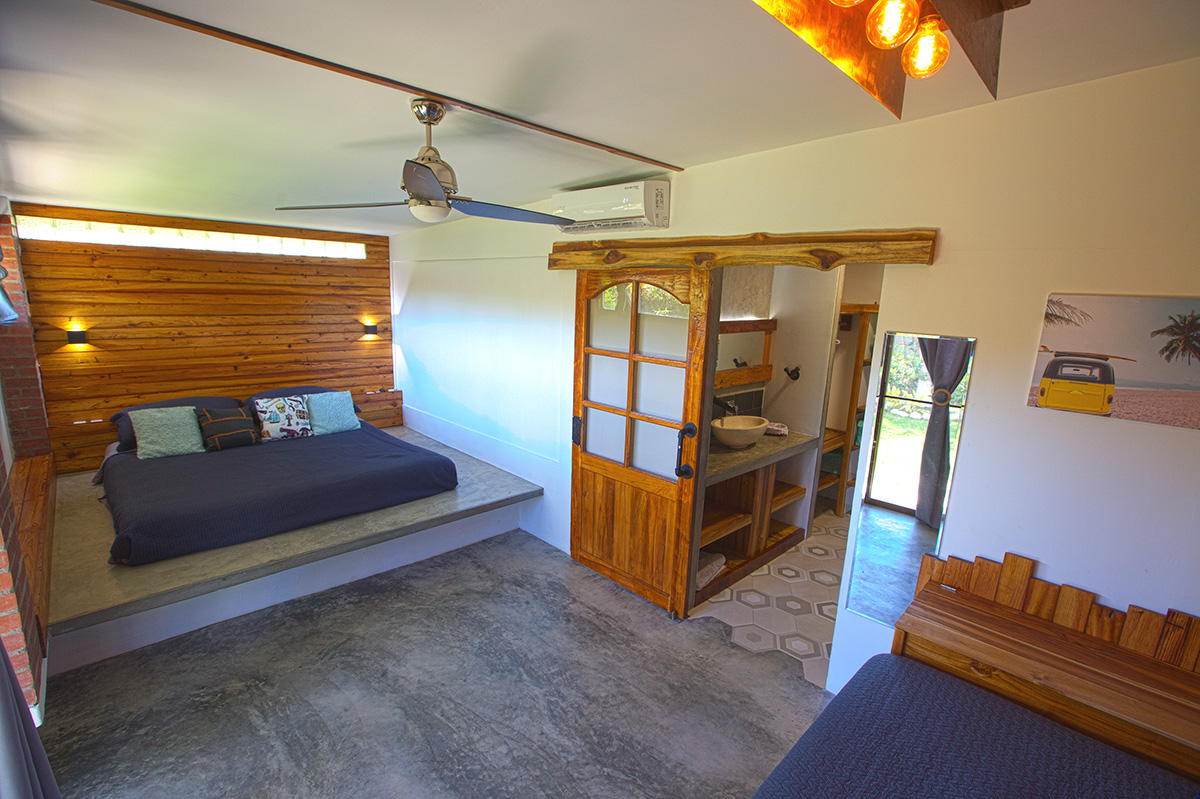 We finally finished the project ready to open on December 12, 2020, exactly one year to the day after we got the keys to the property, we thought we would open in July 2020, just 6 months late! A classic timing in Panama, but with the pandemic, we broke records. Some people tell us that it's actually a good thing that we were able to do the project during the pandemic, and yes, it's true that it helped us in some aspects. We were able to take a step back from the project, review certain aspects and improve the whole thing, but it didn't help in terms of finance.
The day we put the hotel online, facebook, instagram (80% of the reservations are done by this channel in Panama, instagram is very present in all the spheres of activities, which is really a particularity of this country), airbnb and booking, the government announced a new lockdown which prevented all the nationals to pass from one province to another.
We were receiving great positive comments and encouragement online. Everyone loved the hotel photos, design and style but no one could come. So we completely lost our opening buzz which is an important step in launching a business. Some people thought we would get that buzz back when we reopened but not really, it disappeared with the restrictions.
The Christmas period was therefore dead, completely empty, a big blow to morale, this time hard to digest. Our first customers arrived shortly before Christmas, 2 French women ready to discover Panama in a project of relocation, disgusted by this pandemic… fortunately the others followed, a restaurant owner from Lyon for 2 weeks and finally the government allowed the nationals to leave the city little by little if they had a hotel reservation. The total quarantines of the weekends from Friday evening to Monday morning allowed us to sell packages of 3 nights, to make us known and little by little the word of mouth and instagram made their effect. Clients didn't want to leave and left delighted. The positive reviews started to accumulate. Some woke up from their first night and were already booking another stay. That was it, we were now almost sure, our product was pleasing, our service was working, and we had confidence in the future.
However, we know that the hardest part is far from over. It is not enough to create a magical place to be successful even if it contributes greatly to it. Customer service is a key element that we focus on and this is reflected in the comments obtained on the various platforms where the hotel is available. It is our greatest reward to see people leave happy and have a memorable stay. We have already formed many friendships with guests and it is always a pleasure to see guests return to enjoy the Casa Swell experience. Perhaps it will be your turn soon, we look forward to hearing from you and are available to answer any questions you may have about planning your trip to Panama!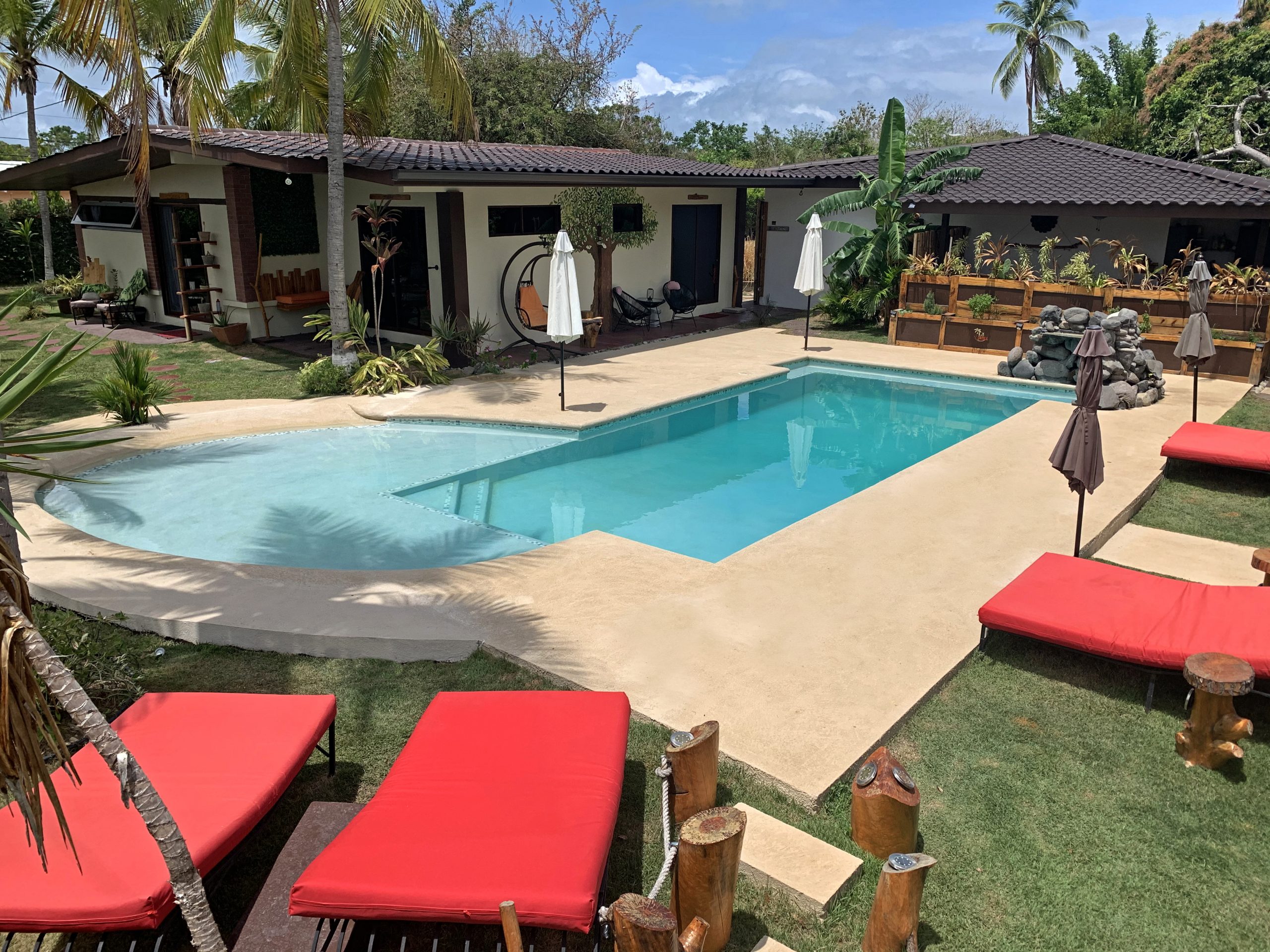 DISCOVER THE MOST BEAUTIFUL GETAWAYS WITHIN AN HOURFROM CASA SWELl Do you like to escape into the wilderness and be alone in the world? Near the hotel, from 40 minutes to an hour's drive, you'll have a multitude of options!  Below are links to a...